Equipment for pellets (fuel granules) production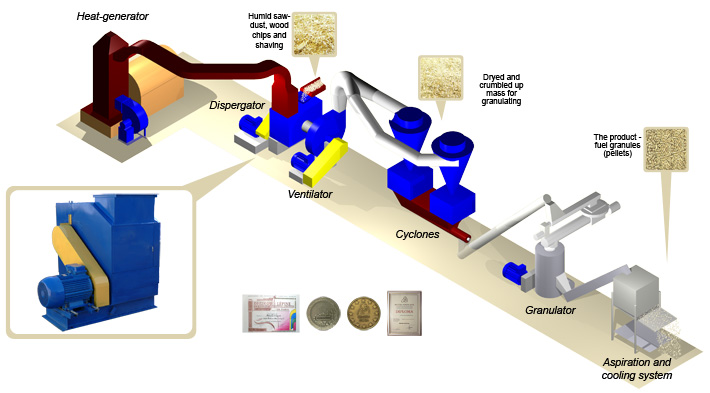 The preparation of mass for granulating is carried out in aerodynamical dryer – dispergator (crushing machine).
Technical characteristics of aerodynamical dryer:
Effectiveness: 500-2000 kilograms per hour of mass for getting fuel granules.
Overall dimensions of the desintegration and drying unit: 2000x1600x1600 millimeters.
Power consumptions: electricity – 60-70 kilowatt-hour per tonne of the ready-made product, thermal energy 0.5-06 gig calorie per tonne (the temperature of the air is 100-150°C, air-heater works on wood waste or ready-made product – fuel granules).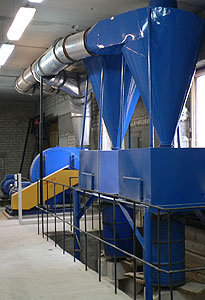 Advantages of the apparatus over hammer mills and drum dryers:
Crumbling up and drying is carried out in one instillation;
With a wet raw material in a hammer mill there are difficulties with taking away of the ready made product;
The temperature in the apparatus is not higher than 150°C (in a drum dryer the temperature is about 400°C that may cause the ignition of the wood raw material);
Minimal power inputs for grinding and drying;
Compactness – occupies a few area, the 3 meters-high premise is enough;
It is possible to regulate technical parameters of drying and desintegration processes;
Starting of drum dryer takes several hours and it is necessary to set big capacity interstitial bunker for preventing downtime of granulator. Dispergator starts in several minutes.
In September 2007 in Perm the line on producing for fuel granules was put into operation: Video – 27MB (the line is in sale).
The drying and grinding of wood waste is carried out in the aerodynamical dryer – dispergator that was developed in Perm and now is introducing in Russia and countries of Euro Union.
Pellets production
Wood fuel granules are cylindrical items with 4-12 millimeters diameter, 20-50 millimeters length, 1.25-1.30 grams per centimeter3 density and with high heat of burning (up to 19.5 M Joule per kilogram).
One tonne of pellets while burning produces the same amount of the energy as 1600 kilograms of firewood, 685 liters of fuel oil, 500 liters of diesel oil, 480 meters3 of natural gas.
Fuel granules burning considered being carbon dioxide neutral as in the process of growing wood absorbs the same amount of carbonic acid that is emitted while burning. As well as this wood is renewing resources while reserves of minerals in the Earth's subsoil are decreased.
The biofuel is much chipper than much other energy resources and the difference is constantly increases.
Pellets are burned at big thermal stations and small boilers that are installed in private houses. All boilers work in automatic mode.
countries of Euro Union created favorable conditions for changing boilers those work at minerals into boilers for burning of the biofuel.
Now it is possible to say that the whole industry for biofuel production is formed.
Fuel granules are produced of peat, wood waste and agricultural waste. Pellets production of sawdust, wood chips and shaving solves the main problem of woodworking industry – waste utilization.
The process of pellets production is divided into two stages: the first – preparation of the wood raw materials (drying and desintegration); the second – granulating.
Auxiliary stages are assortment of raw material from coarse and metallic inclusions, transport and dosage to desintegration and drying, dosage of raw material between the main stages of producing, aspiration and cooling of the ready fuel granules, prepacking and packing of the product.
Wood waste material grinding is carried out generally in hammer mills, the main drawback this kind of mills is difficulty in separation of the ready made product when wet raw materials are used. Wet grinded material sticks to the sorting sieve.
Wood waste drying is carried out in drum, belt and aerodynamical dryers. The last have a number of advantages and gains wider use.
Granulating is carried out in granulators with flat or cylindrical matrix.