Production lines of fuel briquettes "TURNKEY"
The advantage of offered lines is conditioned by the peculiarities of the equipment for producing fuel briquettes that form the technical line:
Drying and grinding of wood waste is carried out in aerodynamical dryer – dispergator, that allows to reduce power inputs, accurately regulate humidity and granulometric structure of dryed material, that considerably improves the quality of the product – fuel briquettes and reduces production area.
The line is firesafe thanks to a drying installation as the temperature of it is not higher than 150°C.
Due to compactness of the dryer an opportunity to put the whole process of briquettes production in a 12 meters container occurs. The customer gets the container with a complete stuff of technological equipment and performed start-adjusting work.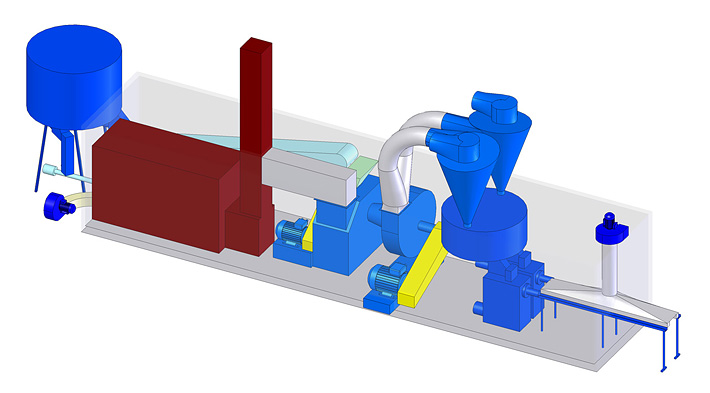 Line productivity is from 400 to 800 kg per hour of briquettes of sawdust with 50% relative humidity. Heat generator works at wood waste.
Production of wood fuel briquettes
Fuel briquettes are pressed well-milled dry wood waste or peat and rind those have different shape in depending on the used equipment.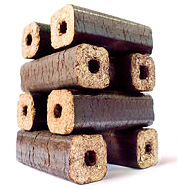 Their length usually is 100-300 millimeters; diameter is 50-75 millimeters. They have a high caloric value, a density up to 1200 kilograms per meter3 and a low ash content – up to 1%, fuel briquettes are carbon dioxide neutral renewable biofuel.
The briquettes have long time of burning (in 3-4 times longer than wood), that makes them attractive for using in different kinds of fire chambers, furnaces and fireplaces.
The demand for the fuel briquettes in Euro Union is growing all the time that promotes the increasing of their cost. They are sold in supermarkets, at filling stations and so on.
The briquettes are mainly produced with screw pressing method of ready raw materials (grinded and dried wood waste and peat). At the same time the product is uninterruptedly taken away, cooled down, cut and packed up.
Grinding and drying of the raw material is carried out similarly to preparation for getting fuel granules, but the requirements to the briquetting mass is lower than for granulating. Impurities of rind, coarse inclusions of wood with the length up to 10-20 millimeters are possible for fuel briquettes production.
Drying of wood waste and peat in aerodynamical dryer – dispergator allows to use dilute smoke gases as desiccative agent that reduce thermal inputs for the process of drying.